Not all beaches are created equal — as anyone who's ever fought traffic, stalked people for parking, endlessly searched for a spot not occupied by tourists or trash, and then tolerated whichever aspiring DJ decided to set up camp 20 feet away, can attest.
But with the right scenery… and the right shoreline… and the right conditions, whatever hassles and headaches it took to get you to that idyllic stretch of sand cease to matter. Some beaches are near mystical in their powers to slow time, erase reality, and hook you into a force greater than yourself. Here are 20 of the world's most beautiful beaches: Whether you're into majestic cliffs and rock formations or smooth, wide nothingness, sugary white sand or pink or black or golden, they're all perfect no matter how tough the journey.
Blue Lagoon, Oludeniz, Turkey | Olena Rublenko/Shutterstock.com
Blue Lagoon
Oludeniz, Turkey
It almost looks like a little slice of Thailand up and dropped itself here at the merging of the Aegean and Mediterranean seas. About 10 miles from the town of Fethiye, lush green peaks border perfectly clear turquoise water, with a peninsula separating one stretch of beach from another. The beach is a national marine sanctuary, so you won't find any eyesores or resorts stinking up the place.
Bonus: Diving here is also first-rate, with some fascinating caves and an abundance of marine life with near-limitless visibility.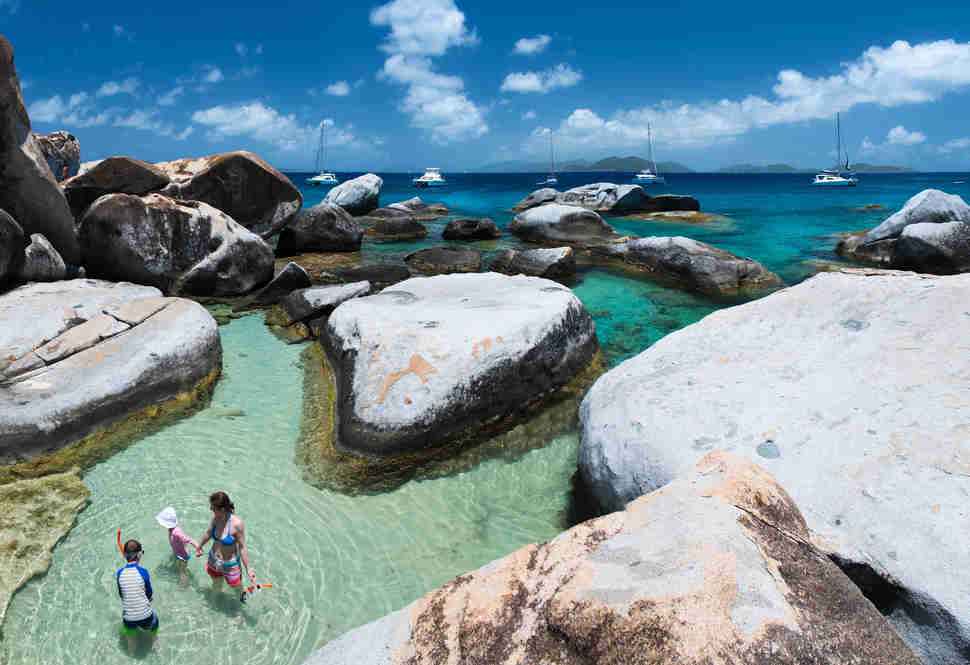 The Baths, Virgin Gorda, British Virgin Islands | BlueOrange Studio/Shutterstock.com
The Baths
Virgin Gorda, British Virgin Islands
Nobody knows how this garden of perfectly smooth granite boulders ended up on the shores of Virgin Gorda. They back up against palm-filled mountains, lending the place its mystical-pirate-hideaway, there's-definitely-buried-treasure-here-somewhere vibe. Even when the beach is filled with pasty tourists.
Bonus: Stroll through the boulders and swim into secluded grottos, where the sun peers in through the rocks and creates some of the best photo ops in the Caribbean.
Navagio Beach, Zakynthos, Greece | Natalia Deriabina/Shutterstock.com
Navagio
Zakynthos Island, Greece
This spectacular crescent beach, accessible only by boat, is surrounded on three sides by dramatic, sheer cliffs. Still, tourists steadily stream in, eager to soak up the striking beauty of the cove's white sands and the Ionian Sea's azure water.
Bonus: Sitting smack dab in the middle of the beach is the rusted hull of a freighter that ran aground here in 1980, rumoured to be smuggling wine and other contraband — thus earning the beach its two nicknames: Shipwreck Beach and Smuggler's Cove.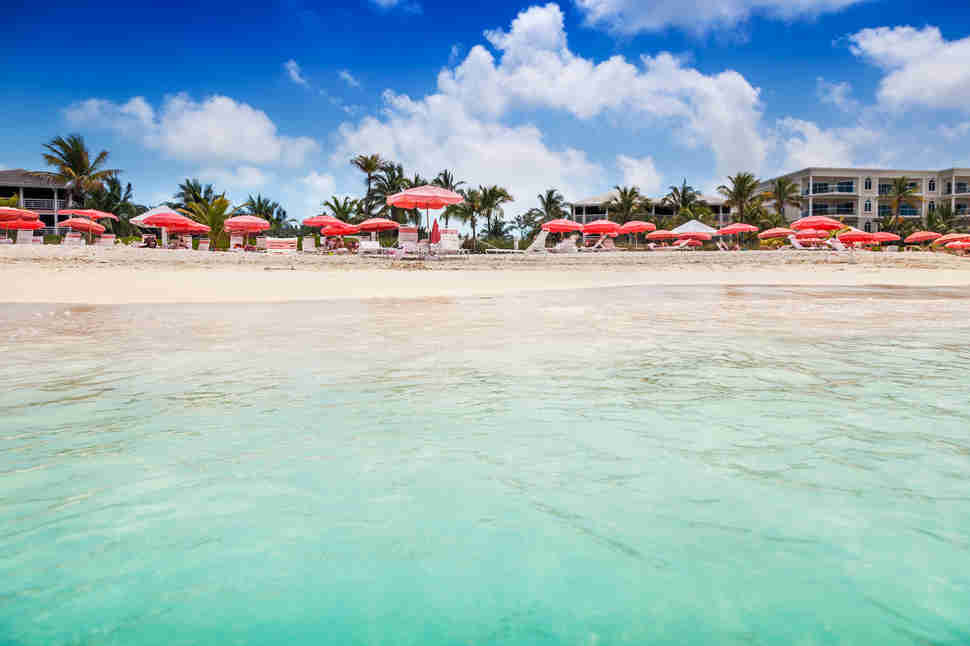 Grace Bay Beach, Turks and Caicos | Jo Ann Snover/Shutterstock.com
Grace Bay
Providenciales, Turks and Caicos Islands
The water in Turks and Caicos is a special brand of light aqua you'll find nowhere else in the world. This iconic stretch of white sand is just a stone's throw from the big resorts. It looks just as spectacular from the water as from the sand, so rent a little sailboat and explore it from both angles.
Bonus: Coral Gardens, a small snorkelling trail at Grace Bay, has so much tropical marine life, it's even a step above most scuba dives.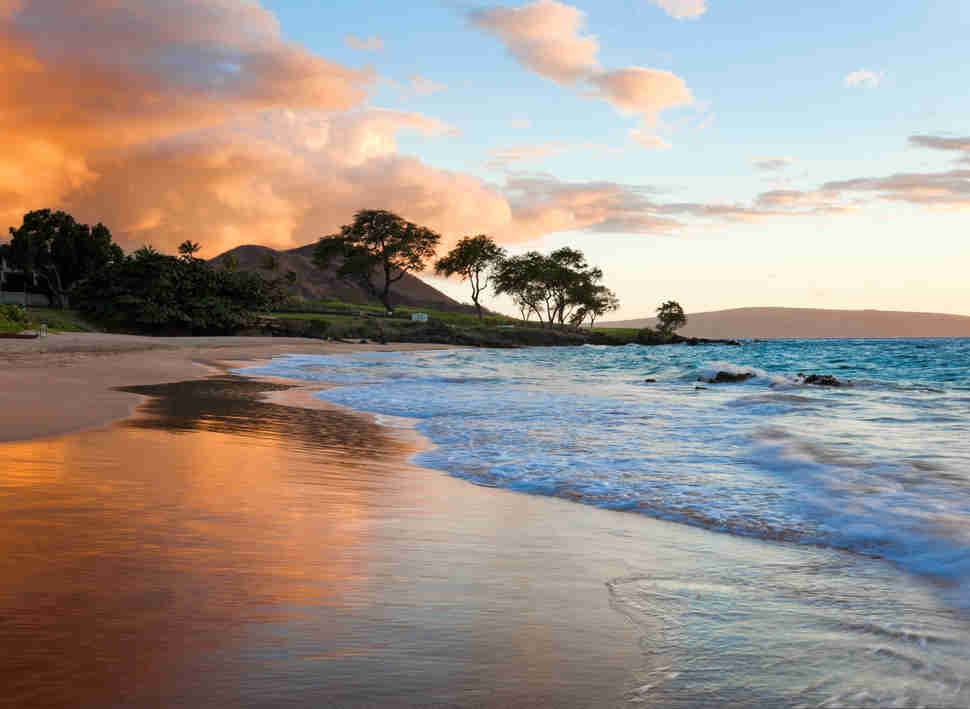 Makena, Maui, Hawaii | topicdream/Shutterstock.com
Makena
Maui, Hawaii
The salmon-orange sand on Makena during sunset creates a mind-blowing tableau of colour against the blue water and red sky. The view from the sand is of the white-capped Pacific leading out to other Hawaiian islands.
Bonus: There are two beaches here, Big Beach and Little Beach. And wouldn't you know, Little Beach is clothing-optional.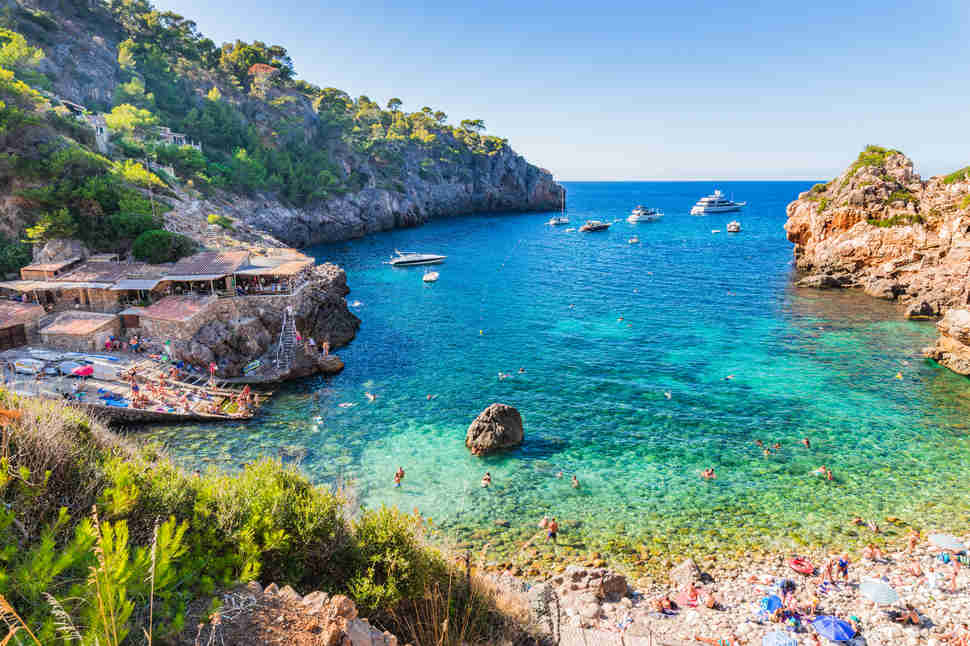 Cala Deia, Majorca island | vulcano/Shutterstock.com
Cala Deia
Mallorca, Spain
Though it's not a lay-out-and-tan kinda place, this shingle beach on the west coast of Mallorca is a unique seaside spot. Cliffs surround the sapphire water, and even though villas are built into those cliffs the place still feels like a hidden slice of heaven.
Bonus: Two seafood restaurants here let you enjoy fresh-caught seafood while eating almost-on-top of the water.
Hidden Beach, Mexico | fernandocpauletto/Shutterstock.com
Hidden Beach
The Marieta Islands by Puerto Vallarta, Mexico
LOOK AT IT! While no longer as hidden as the name might suggest, this beach is rumoured to have been formed by the Mexican military detonating test bombs in the early 1900s.
Bonus: There's a water tunnel you have to pass through to get there.
Anse Source D'Argent, Seychelles | Kuba Barzycki/Shutterstock.com
Anse Source d'Argent
La Digue, Republic of Seychelles
Its towering cliffs and pink sand make it one of the most photographed beaches in the world.
Bonus: La Digue, specifically its Veuve Nature Reserve, is the last place on earth where you can find the rare black paradise flycatcher bird, of which there are only about 100 left.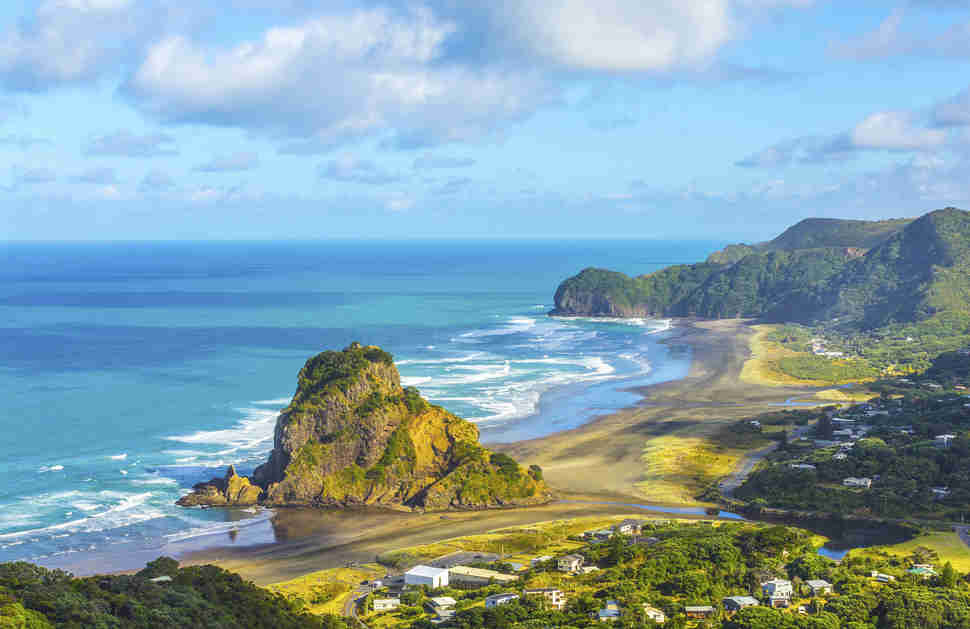 Piha Beach, Auckland New Zealand | Sorang/Shutterstock.com
Piha Beach
Piha, New Zealand
Auckland has never been confused for a "beach town," but one of the most enduring images of the place comes from this beach about 25 miles north of the city. It's home to Lion Rock, a massive 16-million-year-old stone that's made appearances on both the Auckland phone book and postage stamps. Green hills line the shore, with streams and tributaries running out into the Tasman Sea.
Bonus: Piha is a black sand beach, formed by volcanic minerals, and the harsh breaks make it one of the top surfing spots in the Pacific.
Ora Beach, Indonesia | BagusMartada/Shutterstock.com
Ora Beach
Maluku, Indonesia
While Bali gets the bulk of the Indonesian beach hype, the most jaw-dropping beach in the country is in Maluku. The actual stretch of sand isn't particularly large, but the overall setting of the emerald ocean flowing through jungle islands is the stuff of South Pacific fantasies. And since it doesn't get a ton of hype, you can often float face up in the perfectly clear water without anyone else around.
Bonus: It's called the Maldives of Indonesia, mostly because here too you can rent little tiki huts that sit on stilts in the water, making your patio a de facto private beach.
Maya Bay, Phi Phi, Thailand | windofchange64/shutterstock.com
Maya Bay
Ko Phi Phi, Thailand
There's a reason this plush tropical beach was used as the backdrop for the cult movie The Beach, and that reason is probably that they wanted one of the world's most gorgeous tropical beaches in the film. Or, it could just be cheaper to shoot a movie in Thailand.
Bonus: Once you get there you might be tempted to make it a full-time vacation; Ko Phi Phi is one of the world's best beach cities where you can live comfortably for dirt cheap.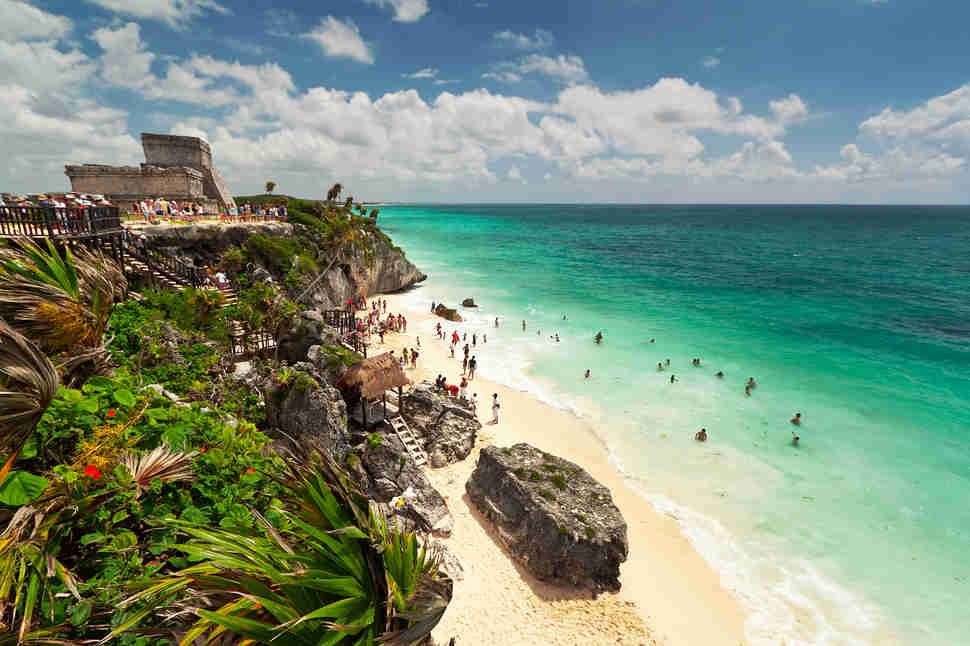 El Castillo, Tulum, Mexico | Patryk Kosmider/Shutterstock.com
El Castillo
Tulum, Mexico
With Mayan ruins in the background, this white sand paradise is accented by clear water and colourful fishing boats; meanwhile, festive locals salsa dance on nearby Playa Esperanza.
Bonus: Climbing pyramids, swimming in cenotes, kitesurfing, and eating fish tacos — you will not get bored.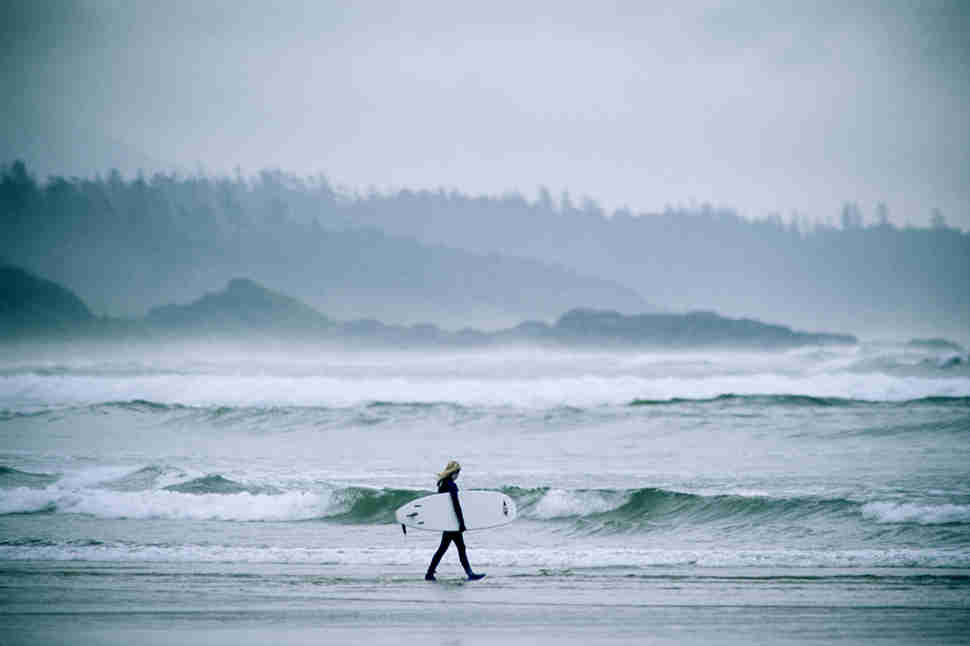 Tofino, Vancouver Island | Christopher Morris/Getty Images
Tofino
Vancouver Island, British Columbia
When you think of crystal clear water, white sandy beaches, and unparalleled surfing, only one place comes to mind: Canada! Or not… but that's what makes this unexpected surf town on the west coast of Vancouver Island such a pleasant surprise. It has all that plus towering mountain views that, if you dress accordingly, can make for one of the most scenic beach days of your life.
Bonus: Bears sometimes enjoy this beach, too. That may or may not be a bonus: Just make sure you bring your camera and an air horn.
Baia de Sancho, Brazil | Marc06/Shutterstock.com
Baia do Sancho
Fernando de Noronha, Brazil
TripAdvisor's hands-down best beach in the world, this Brazilian escape — with its turquoise waters and coral reefs — is super secluded and really, really difficult to get to; as in, down a dirt road, a few rickety ladders, steep stairs, and through a tight crevasse — you get the idea.
Bonus: It's a must for divers and snorkelers, with impressive reefs and tons of sea creatures to spot.
Siesta Key Beach, Sarsota | Education Images/Getty Images
Siesta Key
Siesta Key, Florida
It's tough to pick just one from America's best beach state, but this gem on the Gulf Coast is the kind of beach that gives you a sunburn because you can't pull yourself away. The calm, azure waters of the Gulf of Mexico lap up on a powdered-sugar shoreline with minimal development and spectacular sunsets.
Bonus: It's not uncommon to see dolphins swimming just a few yards offshore. In the summer you might also spot some manatees if you venture out in a kayak.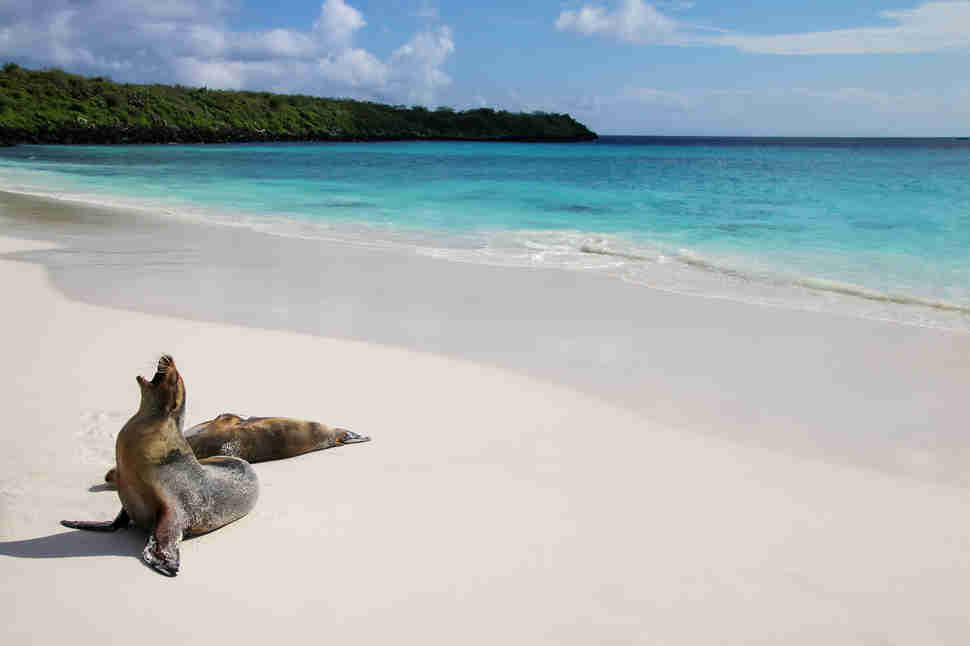 Gardner Bay, Espanola Island, Galapagos National park | Don Mammoser/Shutterstock.com
Bahia Gardner
Española Island, Galapagos
If these approximately 4-million-year-old volcanic islands were good enough for Charles Darwin, they're good enough for us.
Bonus: Famous for their many endemic species, Bahia Gardner is packed with sea lions, red lava lizards, and Española mockingbirds. The entire world population of waved albatrosses breeds here, as does the fun-to-say blue-footed booby.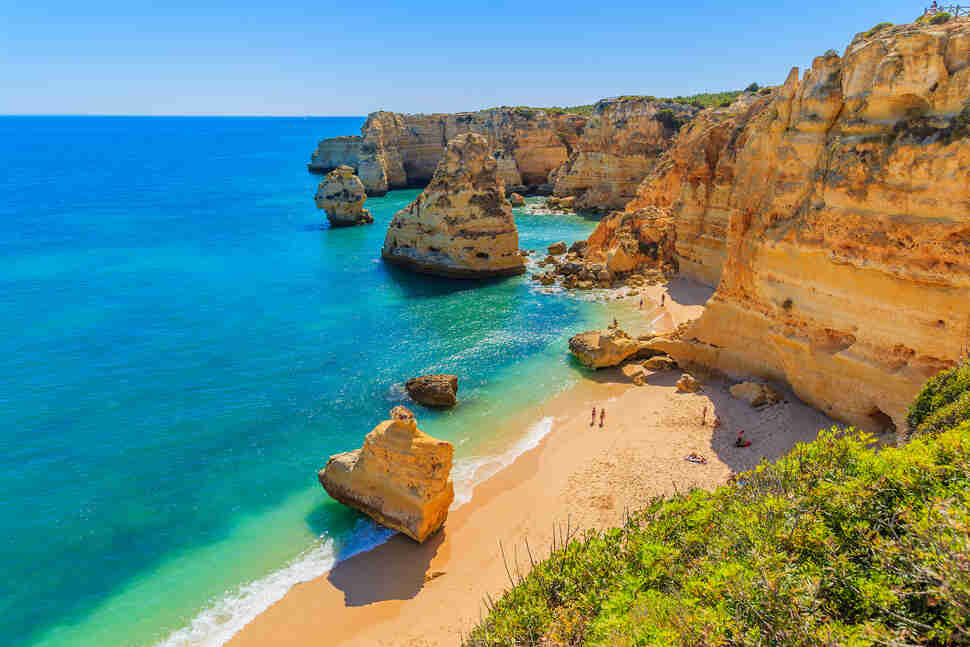 Marinha Beach, Portugal | Pawel Kazmierczak/Shutterstock.com
Praia da Marinha
Lagoa, Portugal
Take in the view from atop the golden cliffs that line this postcard beach. Then forego the stairs and take the walking path to the right of the parking lot for even more "holy shit" vistas. Head into the turquoise water and swim through the twin arches that stand as the beach's iconic symbol. Or take a boat out and explore the grottos and caves nearby.
Bonus: Marinha is just one of several beaches in Algarve, Portugal's southernmost region, vying to be named the most beautiful in the country. There is quite literally "more where that came from" so rent a car and make an adventure of it.
Lake Mckenzie, Frasier Island, Australia | Benedikt Juerges/Shutterstock.com
Lake McKenzie
Fraser Island, Australia
There's no salt to sting your eyes, as this all-silica beach is on a crystal clear, freshwater lake — considered one of the cleanest in the world. Fraser Island's also one of the largest sand islands and features an ancient rainforest.
Bonus: Dingo sightings are perfect for yelling, "a dingo ate my baby!"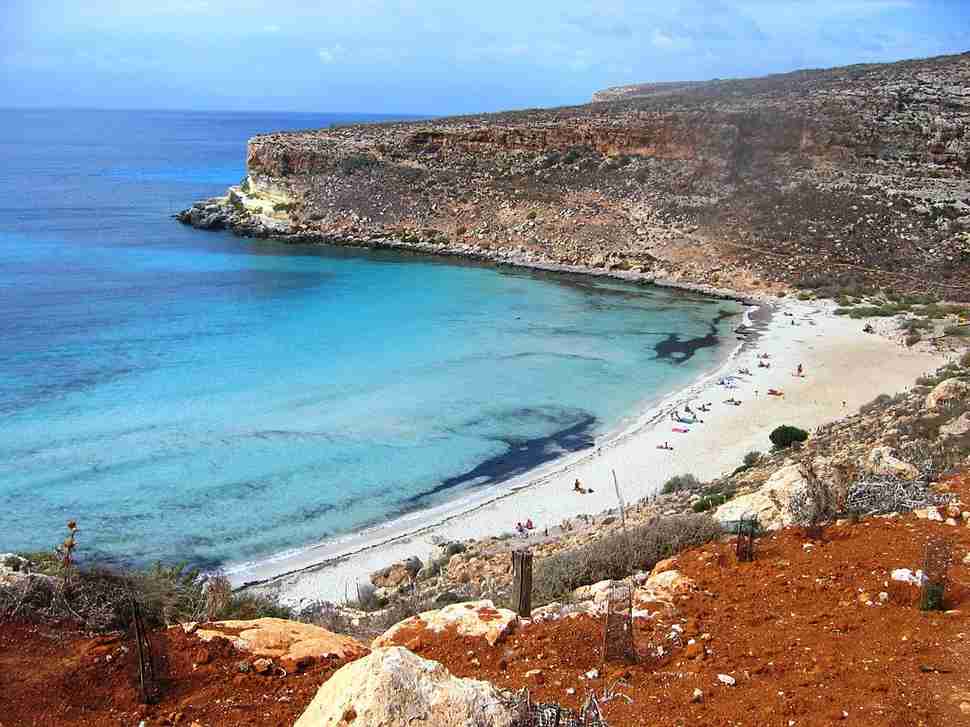 Rabbit Beach, Lampedusa | Wikipedia/Rabbit Beach
Rabbit Beach
Lampedusa, Italy
A stunning and secluded nature reserve accessed only by boat, Rabbit Beach (which, ironically, has no rabbits) is consistently rated one of the top four beaches in the world on TripAdvisor.
Bonus: Dolphins frolicking in the water and the nearby volcanic isle of Linosa, which has an incredible black-and-red beach.
Eat Beach, Santa Barbara, California | Lisa Werner/Getty Images
East Beach
Santa Barbara, California
Santa Barbara might just be the most perfect place in America. It's got all the warm, sunny weather Southern California's famous for — but without the millions of people that ruin it in LA. East Beach epitomizes that quintessential Cali scenery that caused early settlers' jaws to hit the sand: the deep blue Pacific, a long meandering beachfront drive lined with palm trees, and the Santa Ynez Mountains standing tall in the background.
Bonus: Beachgoers, Rollerbladers, and runners who are every bit the picture of Southern California beauty, making this one of the best spots in America for all kinds of scenery.
Sign up here for our daily Thrillist email and subscribe here for our YouTube channel to get your fix of the best in food/drink/fun.
Sophie-Claire Hoeller is Thrillist's former über-efficient German associate travel editor and considers herself something of a beach connoisseur. Follow her @Sohostyle
Matt Meltzer is a contributing writer to Thrillist. Follow him on Instagram @meltrez1.
Leave us a Comment